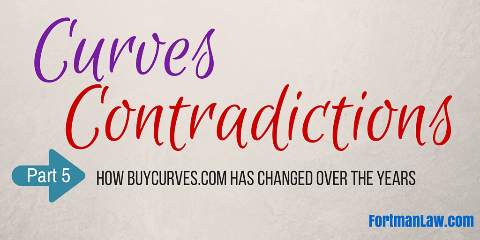 This is the second post in the Curves Contradictions series, a series of posts dedicated to exposing contradictions Curves International has been caught in during our legal research.
In May 2014, Forbes Magazine released an article titled, Crash Diet: After Shedding Thousands of Locations, Can Curves get back in Shape?
The article highlighted several issues Curves International has had over recent years including the rapid decline in the number of North American Franchises. Forbes pointed out that the number of North American franchises dropped a staggering 65%, putting Curves among the 7 Worst Franchises according to their ranking.
Curves was contacted for comment, in which they were quick to blame the franchisees.
The Forbes article stated, "Curves' new owners blame … the franchisees. Those who bought multiple units failed and bailed. 'They were the wrong owners for Curves,' says Jon Canarick, managing director of North Castle Partners, a private equity firm in Greenwich, Conn. that acquired the chain in 2012 for a tightly heldsum. 'If you aren't there working it and working in the community to try to bring new people in and providing great service to your members … Often those locations are not going to do very well.' Adds his handpicked CEO, Monty Sharma: 'The growth came very quickly'–so quickly, he concedes, that there was little oversight. Some owners, he claims, sold or transferred their locations to unqualified buyers."
Those are some pretty harsh words from the people in charge of providing support for their franchisees. While Sharma is quick to agree that the "wrong owners" were to blame, he also admits that Curves didn't really do anything to stop those owners from entering the system. While on the other hand, Curves totes about how it hand selects its franchisees carefully and even in their own franchise agreement state they have the right to decline any transfer or sale of the franchise.
The Forbes article also pointed out that part of Curves and North Castle Partners' plan to turn the brand around involved already-struggling franchisees spending large sums of money on new equipment, "Then there are the mandated purchases like exercise mats ($55 a piece) and the TV and sound system($550), as well as "important" products, like founder Gary Heavin's book on dieting ($150 per case), snack bars ($28), meal bars ($36), quarterly clothing and towel bundles ($425 to $795). Decline to buy compulsory items and franchisees may be erased from the website."
In a post-publication response that Curves released to members on May 30, 2014, Curves International stated, "The article does not make it clear that the only mandatory items are those needed for the Jillian Michaels program, the other items cited are not mandatory but rather are revenue opportunities for franchisees."They also added, "No franchisee is left off the website for refusing to purchase mandatory items alone."However, this is still inaccurate. We have heard from countless people who reported being left off the website for being unable to afford new clothing bundles or the expensive Jillian Michaels equipment upgrades. Many franchisees would search their zip code on the Curves website and find 0 results, meaning any potential member in their area wouldn't even know their club existed.
In fact, Curves put the mandatory items in writing in their 2013 Regionals Recap. While Curves International's official response to the Forbes article states that only Jillian Michaels purchases were mandatory, their 2013 Regionals Recap states that Apparel Bundles are also mandatory.

The Recap goes on to threaten franchisees with the loss of advertising via the 800 number and Curves.com.

Not only did Curves make clothing bundles mandatory, but they also required franchisees to purchase specific Product Displays.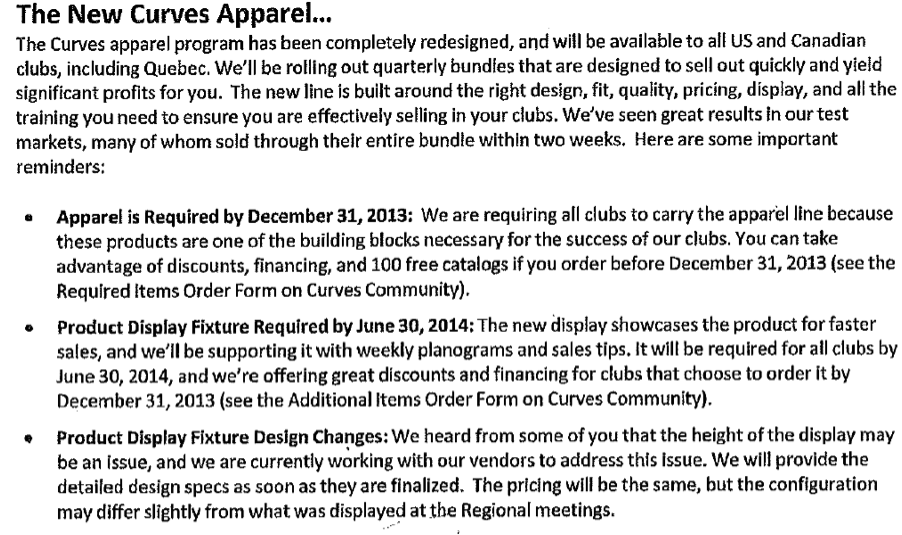 Curves International clearly scrambled to respond to such a powerfully negative article, only to be caught blatantly contradicting their own materials from Regional Meetings. If Curves was so quick to lie about something that was fairly easy to prove inaccurate, what else have they been lying about?