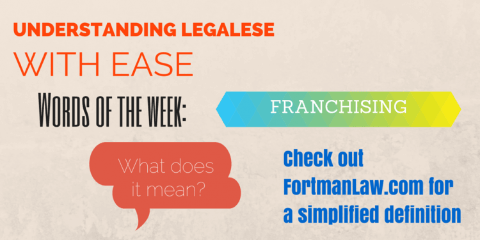 The definition of Franchising is:
Contractual selling or renting of a business model around specific products and/or services at specific locations under specific arrangements. The franchiser contractually gives the franchisee use of a brand name or trademark or trade-name, and certain business systems and processes. The process are how to specifically produce and market franchise goods or services. A one-time franchise fee plus a percentage of sales revenue as royalty earns the franchise. The franchiser achieves rapid business and earnings expansion at minimum capital outlay. It includes (1) immediate brand recognition, (2)marketable, profitable products, (3) standard building layout and decorations (4) details for running and promoting business, (5)employee hiring and training, and (6) ongoing help in promoting and upgrading of the products.
(Source)
So what does it mean?
Franchising is when a brand allows others to pay for the right to use that brand name and/or business system. For the sake of an example, we are going to use a food franchise. If you want to sell burgers, you can certainly open up your own place – but no one will have heard of you, so you'll have to market yourself aggressively just to get people in the door. You'll also have to create your own recipes, decide on your own menu options, and every little decision about every aspect of your business. On the other hand, if you decide to purchase a franchise such as Burger King, you will have automatic brand recognition, access to all recipes, a set system, etc.
Of course, you are also at the mercy of the franchisor. You cannot simply create an incredible new burger and put it on your menu. You can't order a new sign that you like better than the franchisor-approved sign. You'll also have to budget for the fees that a franchisor will charge you such as Franchise fees, royalties, advertising fees, etc.
Franchising can be a great way for brands to extend their reach by allowing others to run the business in new locations. It can also be a good way for someone to start a business with the support of a proven system. However, not all franchises are created equal. It's very important to do your due diligence and extensively research the franchise you are interested in. Some franchising options will offer enough benefits to warrant the restrictions and fees, while others will not. It is imperative that you hire an attorney to look over your Franchise Disclosure Document and Franchise Agreement before committing to a franchise. Buying a franchise without doing these things is very similar to the grab bag experience (except more expensive!), picking blindly and hoping you got something good!