Click to Download AAMCO Lawsuit
See below to download all exhibits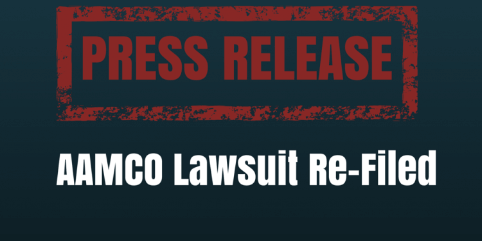 The Law Office of Jonathan E. Fortman has Re-filed the AAMCO Lawsuit
Double A – M – C, (uh Oh)! (again)
AAMCO needs to be held liable.
The Law Office of Jonathan E. Fortman, LLC, in conjunction with the Willmann Law Firm, LLC, announced today that it has refiled suit against AAMCO Transmission, American Driveline System, Inc., AAMCO's parent company, and key individuals, including Mohammad "Mike" Ganjei, the president of the National AAMCO Dealers Association, on behalf of current and former franchisees. The Law Office of Jonathan E. Fortman, LLC previously filed a similar suit against AAMCO containing many of the same allegations. Plaintiffs dismissed the previous case after the parties agreed to mediation. Attempts at settlement at mediation failed resulting in this suit being refiled.
Plaintiffs, once again, seek to have the case certified as a class action. The lawsuit, filed in the United States District Court for the Southern District of Illinois, seeks damages on behalf of the franchisees for violations by the Defendants of the Racketeer Influenced Corrupt Organization Act (RICO). According to Jonathan E. Fortman, lead counsel for the Plaintiffs, "The AAMCO system has engaged in pervasive and blatant fraud against its current and former franchisees for years but has been able to avoid scrutiny through intimidation and bullying of their franchisees." Fortman says, "The vast majority of the franchisees are good, decent people who learn only after investing thousands of dollars that the system they were led to believe they were buying did not exist." Since the initial lawsuit was dismissed, AAMCO has released its 2012 and 2013 audited financial statements which acknowledge the failure of the AAMCO franchise system. According to Fortman, "AAMCO blatantly misstated the financial health of its system until it could no longer hide the truth due to the large number of failures within its system. The 2012 audited financials were truly shocking." In April of 2014, AAMCO conducted a webinar with its current franchisees in which it admitted to a complete and total lack of support to all of its franchisees." Fortman continued, "The release of the 2012 and 2013 audited financials and the explicit admissions by AAMCO in the April webinar fully support each and every allegation made by our clients in this suit. Mr. Ganjei was well aware of all of this but due to extreme conflicts of interest chose to actively participate in the scheme rather than protect members of his own organization. All of these issues are highlighted in the lawsuit which may be downloaded by clicking this link. See below for links to download exhibits.
# # #
You may also be interested in viewing our interview on NBC Washington: Under the Hood: Shop Owners Sue AAMCO
If you would like more information about this topic, please call Jonathan Fortman at
(314) 310-7315 or email Jon at jef@fortmanlaw.com.
Click to download exhibits: